Why do students choose U of T?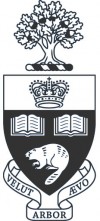 At the University of Toronto, we offer a professional master's program in Speech-Language Pathology.  This program prepares highly competent graduates who can work effectively in a variety of clinical settings. Our professional degree is the Master of Health Science (MHSc) in Speech-Language Pathology.
 …Students choose our program because of the people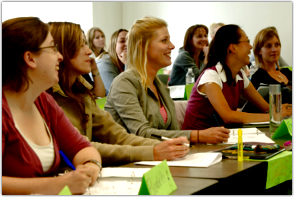 Our Department admits outstanding young women and men from across Canada. In group work and outside of class, your peer group is unrivalled in terms of their dedication, helpfulness, and enthusiastic spirit. You will meet a committed group of young professionals who will work with you, coach you, and support you to ensure your success.
Your classes are taught by the most distinguished faculty in the country. Students' learning experiences are enhanced by professors who understand both theoretical and clinical issues in speech-language pathology. Their research is informing practice in Speech-Language Pathology. These individuals have developed some of the leading ideas in understanding the nature and treatment of communication disorders and have written ground breaking articles in their specialty areas. Learning from some of the best minds in speech-language pathology students are challenged to grow in their knowledge and analytical abilities.
…Students choose our program because of the clinical placements
Your clinical placements are supervised by over 300 experienced and committed clinical educators who work in an exceptional variety of sites (e.g., hospitals, schools, private practice) in the Greater Toronto Area and beyond.  Many clinical educators conduct research, present at conferences, and are leaders in their clinical practice areas (Voice, Fluency , Stuttering, Swallowing, Cleft Lip and Palate, AAC ) which provide a depth   of learning opportunities not available outside of the Toronto area. Through the Faculty of Medicine, the Department has close interactions with 7 fully-affiliated teaching hospitals and 17 community-affiliated hospitals, which represents Canada's largest and finest clinical and public health facilities. Toronto's speech-language pathology community is committed to the goal of enriching and expanding your learning.
Students also have the option to participate in many placement opportunities beyond Toronto's borders. In partnership with the International Centre for Disability and Rehabilitation (ICDR), we have offered placements in Sri Lanka, India, Bangladesh, Trinidad, Kenya, and elsewhere. Annually, students participate in fully-funded placements inNorthern Ontario. In partnership with other Canadian University programs in Speech-Language Pathology, we exchange placement opportunities across the country.
…Students choose our program because of the curriculum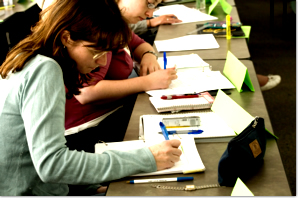 Students take a demanding, innovative curriculum that is integrated and based on a unit structure. Units are two or three months long. Our curriculum has been evaluated as unique in North America because of the manner in which the academic units are followed by clinical units on the same content area. For example, academic content on adult neurogenic disorders, is followed by a placement in a clinical setting where students can apply what they have learned in the classroom among persons with neurogenic communication disorders. In addition, each academic unit has integrated learning experiences (ILEs) that address clinical cases or clinical experiences to deepen learning.
Students also participate in a unique interprofessional curriculum offered through the Centre for Interprofessional Education. They interact with students from a wide variety of disciplines such as occupational therapy, physical therapy, and over 12 other health disciplines in a ground-breaking interprofessional curriculum that is University-wide and known the world over. The interprofessional curriculum fosters an appreciation for other health professionals and their roles in the assessment and treatment of individuals with a variety of disabilities and health concerns. It also offers many opportunities for students from diverse backgrounds to develop team leadership and collaboration skills in interprofessional activities.
…Students choose our program because of the location
Located in the Rehabilitation Sciences Building at 500 University Avenue, its convenient downtown location is within walking distance to the University of Toronto campus, libraries, excellent fitness facilities, the Faculty of Medicine, and several of its fully-affiliated teaching hospitals. Vibrant and cosmopolitan, the downtown Toronto location offers easy access to the Eaton Centre, the Art Gallery of Ontario, the Royal Ontario Museum,  the Toronto islands, bike paths, waterfront parks, sports facilities, Chinatown, Little Italy, shopping, restaurants, and bars. Whatever your preferred type of activity, you are only minutes away from exploring, relaxing, and having fun.
5oo University Avenue offers large technologically advanced classrooms, state of the art labs and attractive study space. Using card chip technology, students have convenient 24/7 access to the building so that they can study or meet with their classmates on evenings and weekends.
What our students have to say…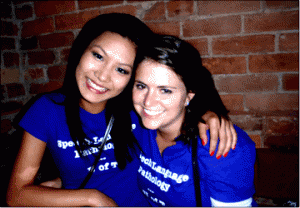 We chose to study Speech-Language Pathology at U of T because of the people, the clinical opportunities, and (of course) the great city of Toronto. We've become the best of friends with our fellow students who will one day be our future colleagues. Our classmates work extremely well together in small group teams on various projects and assignments. Being immersed in the center of "hospital row" on University Avenue, we're able to take advantage of many opportunities to attend seminars given by leading practitioners in the field. Before attending U of T, we were concerned about the high reputation of the Department of Speech-Language Pathology and the pressure we might face to excel. However, we found our classmates, faculty, and staff to be extremely caring, supportive, and helpful. We also really enjoy the time we spend together outside of the classroom – exploring the city, going to plays and movies, and socializing. In fact, SLP at U of T has a longstanding tradition of superb potluck lunches and dinners. We are thrilled with our choice of profession and extremely happy we decided to launch our careers as Speech-Language Pathologists at U of T.
Anna and Talia pictured above, are the co-presidents of the class of 2013.