SLP Alumni Association
Our Mission
The University of Toronto Department of Speech-Language Pathology Alumni Association endeavours to improve quality of life for students in the Speech-Language Pathology program at the University of Toronto. Please read on to learn more about what we do.
• Events Sponsored by the Alumni Association
• Awards Sponsored by the Alumni Association
• About Us

  Join us on facebook!  Connect with other SLP alumni and stay up to date with Alumni Association news, events, and awards…
To remain current with the latest Alumni Association updates, events, and newsletter, please update your contact information by using this link https://secureca.imodules.com/s/731/index_clean.aspx?sid=731&gid=1&pgid=1363 or by emailing address.update@utoronto.ca.

Events Sponsored by the Alumni Association
J. F. Walker Lecture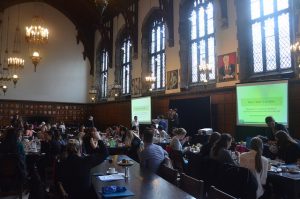 This lecture is sponsored by the Alumni Executive on behalf of Jean F. Walker, Professor Emeritus at University of Toronto. The topic for this lecture is chosen to reflect a general area of interest to all Speech-Language Pathologists, and is open to all interested professionals practicing in the area of communication disorders. As a biennial event, the next J.F. Walker Lecture will be held in 2019. Stay tuned for details!
The 2017 J.F. Walker Lecture sponsored by the Donalda Jean McGeachy Memorial Lecture Series, "Getting the Best of Behaviour: Practical Skills for Clinicians Managing So-Called "Difficult" Behaviours" was a rousing success. The S-LP Alumni Association thanks you for your participation and support of the lecture series. Special thanks to our presenters, Kathy Peters, BSc. Bio, BSc.OT, MBA (c) and Dr. Joseph M. Ducharme, Ph.D., C. Psych.
Alumni Welcome Breakfast
This event is hosted by the Alumni Executive and Year 2 students for Year 1 students, early in the Fall term.  The Alumni Welcome Breakfast is an opportunity for mingling between students and Alumni.  This event helps students feel welcome during the busy first month in the M.H. Sc. Program, and aims to establish contact between students and Alumni early on in students' academic careers at University of Toronto.
Graduation Reception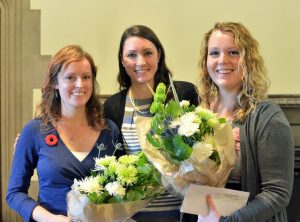 A Graduation Reception is hosted in November, immediately prior to fall convocation for the current year's Graduates of the M.H.Sc. Program.  All Graduates and their Convocation guests are invited to this event.  The Department Chair and Alumni President address Graduates and guests.  The Sandra M. Henderson Award (for excellence in clinical placements) and an academic award (for the student with the highest academic standing in the M.H.Sc. Program) are presented at this event.  The Harmonize for Speech Fund Barbershoppers have also been known to make an appearance!  Following the Graduation Reception, Graduates make their way Knox College to pick-up gowns for the convocation ceremony.
Information Social
This event is hosted in every spring for Year 2 students, in order to help prepare them to enter the working world. Samples of cover letters and resumes are provided for students.  Mock interviews are also conducted by Alumni members with student volunteers, providing a forum for discussing strategies for responding to typical job interview questions. Current job openings and job search strategies are also discussed.
Spring Reunion 2018
Mingle with fellow UofT SLP alumni while enjoying drinks and hors d'oeuvres. Afterwards, attend a free panel discussing speech sound disorders. The panel is being put on by the Department of Speech-Language Pathology at U of T, in conjunction with the Ontario Association of Speech-Language Pathologists & Audiologists (OSLA).
Stay tuned for details!
https://events.dua.utoronto.ca/emc00/EventSearch.htm?&mid=6&acctcode=00348887

Awards Sponsored by the Alumni Association
Distinguished Service Award
In an effort to recognize University of Toronto Department of Speech-Language Pathology alumni who have made outstanding contributions to the fields of communication disorders and swallowing, the Alumni Association selects one recipient annually who excels in at least two of the following areas of achievement:
Academic
• Exceptional contribution to research, teaching, and/or student training
Clinical Services
• Viewed by colleagues as a mentor or resource due to professional and clinical expertise
• Implementation or involvement in innovative programs for the benefit of clients
Promotion of the Profession
• Volunteer involvement with the college and/or professional associations
• Professional representation on committees and/or health-related boards
• Involvement in innovative speech-language pathology program development (e.g., in hospital, school board, preschool centre, rehabilitation centres, private practice, etc.)
• Promotion of speech-language pathology to health professional, community groups, clients, students etc.

Congratulations to the 2018 winner of the Distinguished Service Award, Dr.  J.B. Orange! 
Past Distinguished Service Award Recipients: 2017 Deryk Beal,  2016 Regina Jokel, 2015 Dr. Kim Bradley, 2014 Dr. Judy Seligman-Wine, 2013 Frances Ezerzer, 2012 Nancy Thomas-Stonell, 2011 Janice Greenberg, 2010 Dr. Catriona Steele, 2009 Dr. Robert Kroll, 2008 Barbara Meissner Fishbein, 2007 Penny Parnes, 2006 Mary Soucie, 2005 Marlene Stein, 2004 Fern Sussman
Student Awards
Margaret Stoicheff Bursary
The Margaret Stoicheff Bursary is presented to a University of Toronto Department of Speech-Language Pathology student in the final year of the clinical Master of Health Science program who demonstrates significant financial need to help offset the expense of completing the program.
Paula Square Travel Award
The Paula Square Travel Award is bestowed upon a University of Toronto Department of Speech-Language Pathology doctoral student who has had research accepted for presentation at a conference and requires travel expenditure to attend.
Maragaret Stoicheff Spirit Award
The recipient is an individual in Year II of the Clinical program. Members of the Year II class vote for the person they feel has been most influential in boosting class spirit throughout the program.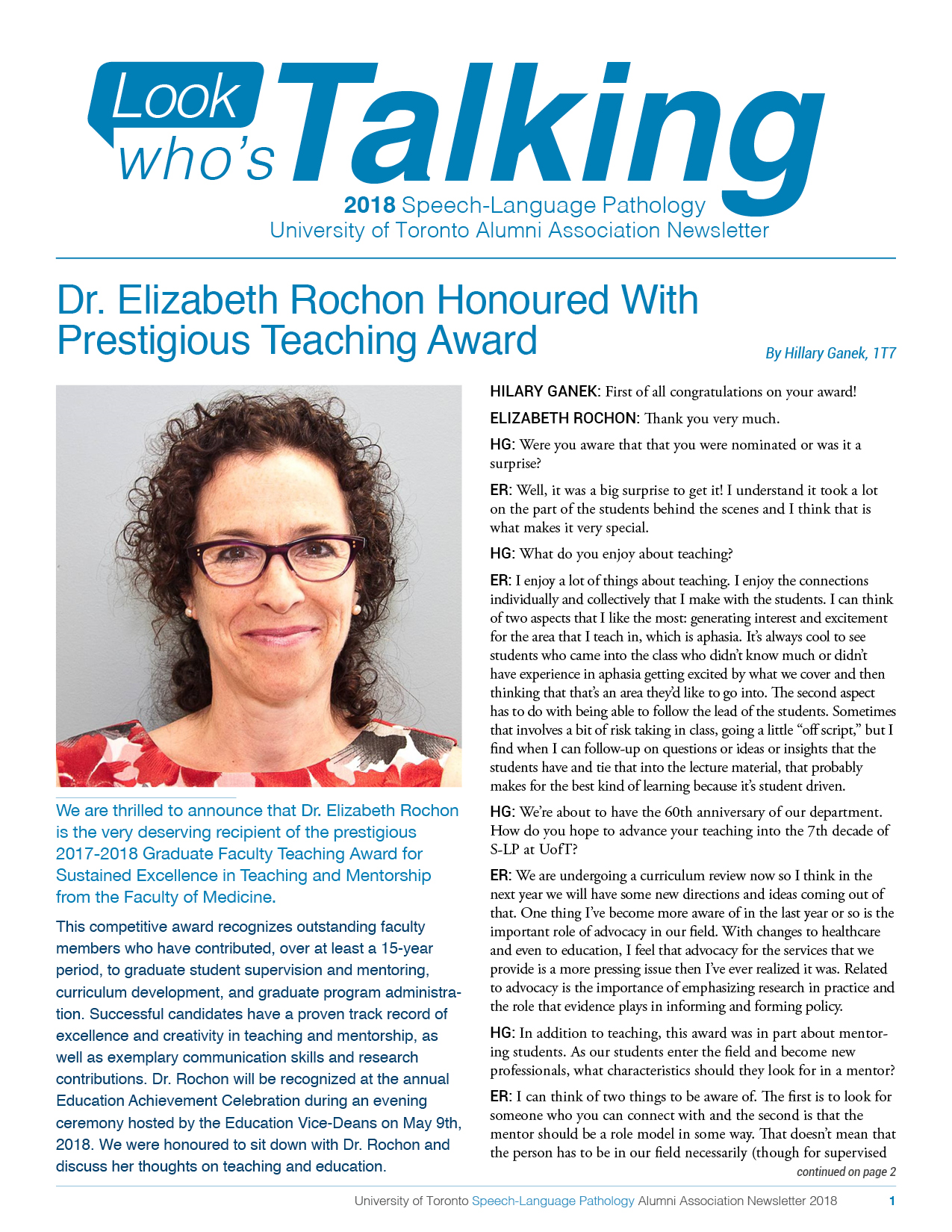 Download the current issue of Look Who's Talking (pdf)
Featuring: Award Announcements, JF Walker Lecture, Year One and Year Two Reports, International Collaborations, Where Are They Now?, OSLAs Say it Hear it Now Campaign.
Download past issues (pdf): 2017; 2016; 2015, 2014, 2013, 2012, 2011, 2010, 2009, 2008, 2007, 2006, 2005, 2004, 2003, 2002, 2001, 2000
To receive Look Who's Talking to your email inbox, please update your contact information by emailing address.update@utoronto.ca with subject "SLP alum e-newsletter"
President: Hillary Ganek
Faculty Liaison: Tim Bressmann
Secretary: Anna Mersov
Newsletter Editors: Ayla Alcorn
Treasurer: Stefanie Haws
Research Stream Representative: Hillary Ganek & Ashwini Namasivayam
Year 2 Class Representatives: Francesca Granata & Vanessa Panes
Year 1 Class Representatives: Mary Wang
Alumni Welcome Breakfast: Nicole Richard
Distinguished Service Award Representative: Hillary Ganek
Faculty of Medicine Alumni Council Representative: Stefanie Haws
Webmaster: Stephanie Wong
Alumni Association Committees
Graduation Reception Committee
The Graduation Reception Committee is responsible for the organization of the yearly graduation reception for graduates from the M.H.Sc., M.Sc., and Ph.D. programs.  Preparation includes booking a venue, creating programs, selecting food and refreshments, and collecting awards and certificates. On the day of the graduation reception, members from this committee and other alumni association executive members help run this event according to the outlined program.
Amanda Indovina, Carla Montgomery, Robin Eles, Rosie Calvieri
InfoSocial Committee
The InfoSocial Committee is responsible for organizing and running the yearly infoSocial where alumni provide coaching on interview skills and give feedback on resumes and cover letters.  This event is held each spring and is for the current second year students in the in M.H.Sc. program.  The committee members prepare for this event by ordering food and refreshments, booking the venue, and preparing a handout for the students and alumni.
Rosie Calvieri, Halee Donenfeld, Hayley Garber, Stephanie Wong
Alumni Recruitment Committee
The Alumni Recruitment Committee is responsible for recruiting new alumni association executive members when space is available on our various committees.
Talia Goldhar
Newsletter Committee
The newsletter committee is responsible for producing the SLP alumni association's yearly newsletter, Look Who's Talking.  The committee members support the newsletter editor with selecting and writing articles, as well as coordinating the printing and delivery of the newsletter.
Chloe Ho, Tijana SImic
J.F. Walker Committee
The J.F. Walker Committee is responsible for organizing and running the bi-annual Jean F. Walker lecture.  Responsibilities include booking a venue, selecting and communicating with speakers, ordering food and refreshments, creating conference folders, and printing certificates of completion for attendees.
Pauly Brar, Nicole Richard, Rosie Calvieri, Halee Donenfeld, Chloe Ho, Andrea Guran, Sana Smaoui
Spring Reunion Committee
The Spring Reunion Committee is responsible for planning, coordinating, and hosting the Alumni Association's annual Spring Reunion (held in May).
Jordanna Waisglass, Robin Eles, Hayley Garber, Sana Smaoui
Communications Committee
The Communications Committee is responsible for communication with our alumni at large through our website, e-mail, and Facebook.
Stephanie Wong, Ashwini Namasivayam
Rachel Whillier (on leave)
Awards
Awards Rep: Sana Smaoui, Kirsten Muller
The Alumni Association welcomes new members.  If interested, please contact slp.alumni@utoronto.ca to learn how you can get involved.
last update February 2018