Student Success Stories
Read what four of our students have to say about choosing SLP at the University of Toronto. From left to right, Anna and Talia (co-Presidents of the Year 2 Class), Li and Heather (co-Presidents of the Year 1 Class).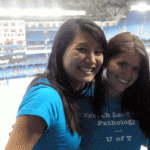 This Month Anna and Talia….
1. Anna Nguyen
Anna graduated from the University of Waterloo with a Bachelor of Science in Health Studies. In over six years of volunteer work with children with disabilities, she gained a first hand appreciation for the value of communication. But it wasn't until she observed a family member's treatment sessions that she saw first hand what a difference a speech-language pathologist could make to a child and her family. Anna obtained her volunteer experience in SLP at the Toronto Rehab Institute/UHN and at KidsAbility in Waterloo. After graduating, Anna worked as an Instructor Therapist at KidsAbility using applied behaviour analysis with children who had autism. This is the field in which she would like to practice as a future SLP.
Why did you choose U of T?
I chose SLP at U of T because of the way it paired academic units with clinical units, and its location close to my parents' home. I wanted to choose a program that was mindful about setting you up to succeed in the real world. SLP at U of T teaches coursework in pediatrics and immediately afterwards, we got to work with children in clinical settings. Because U of T was closer to home, I am able to save money and keep my debt load in check.
What do you like about SLP at U of T?
There are two things that really stand out in my mind. First, I enjoy the faculty's teaching style. They're very knowledgeable in their respective fields and have done some amazing research that they have shared with us first-hand. The professors are all very generous with their time in allowing us to understand and apply the material to real world settings. (They're also really funny.) Second, I like the large selection internship opportunities in Toronto and surrounding communities. Both of my internships were amazing. I really appreciated how helpful the clinical coordinator was. The clinical coordinator guided me through the process from matching me to a placement to helping me fill out my clinical hours tracking sheet. She even checked up on me mid-way through my placement to see how I was doing.
What do you dislike about SLP at U of T?
The program is very structured and so there aren't "electives" or "specialty areas" you can choose.
What is the most important thing you did to prepare your application for SLP?
The most important thing I did to prepare for my application was to go onto U of T's website to look at their mission statement and values and to incorporate them into my Letter of Intent. Also, I think that completing all of my pre-requisites before applying was equally important. Because my undergraduate university did not have a phonetics course, I had to do some searching and advance planning to take it at another university.
2. Talia Goldhar
Talia graduated from the University of Western Ontario with a Bachelor of Arts in Psychology and Sociology. She developed a keen interest in language development through her experiences working with children in summer camps. To gain experience in SLP, she volunteered at the Speech and Stuttering Institute's summer camp for children with speech disorders. As part of her undergraduate program, Talia completed an independent study that examined 6-month-old infants' ability to recognize voices and bodies. Following graduation, Talia worked full-time as the National Program's Assistant at the Canadian Foundation for AIDS research, running its AIDS awareness campaign or high schools across Canada. When she graduates, she hopes to work with people who have speech production disorders­­­­­­­­­­­­­­­­­­­­ but is interested in working with other disorders as well.
Why did you choose U of T?
I chose to attend U of T because of its great reputation and for the opportunities living in the city of Toronto offered. Having the opportunity to meet and work with some of the top professionals in the field (in lectures and clinical placements) opens up countless learning and networking opportunities. The separation of academic and placement units was also a huge draw for me.  Having these two components of the program during separate semesters allows me to put all of my energy into succeeding at each equally. I'm able to learn about specific elements of speech-language pathology and then immediately transfer what I learned into the real world. 
 What do you like about SLP at U of T?
 Having completed one year of the program, there are two things that I like most about the SLP program at U of T. First, the faculty are always available to help me when necessary and have been very welcoming throughout this journey.  They have found an excellent balance between teaching us the fundamentals of speech and language, while emphasizing the importance of developing the clinical skills necessary to be strong and successful SLPs once we graduate. Second, my peers are outstanding. Coming from an undergraduate program that was highly competitive, I anticipated that a master's program would be similar. I was wrong. My classmates and I work together frequently. We make sure that everyone understands new concepts and share resources we have found online or elsewhere. We have become a team and I am thrilled that my classmates will soon be my colleagues.
What do you dislike about SLP at U of T?

There is a lot of information to learn about each area of SLP. Sometimes it feels like there isn't always enough time to learn everything I want to learn during the academic units.
 What is the most important thing you did to prepare your application for SLP?

The most important thing I did to prepare my application for SLP was to identify my strengths and qualities that made me a good candidate for the program. I knew that most applicants would have completed their prerequisites, volunteer hours, and reference letters. Therefore, I concentrated on making my letter of intent the most important aspect of the application. In my letter, I highlighted the attributes that made me an ideal candidate for the program.
 next month we'll hear from …Li Tang and in December, Heather Molyneaux