Dr. Yana Yunusova Promoted to Full Professor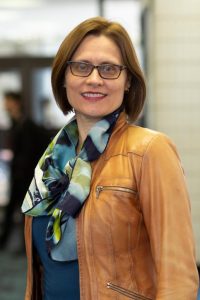 Photo Credit: Jason Hang
The department of Speech-Language Pathology, Rehabilitation Sciences, Faculty of Medicine is very pleased to announce the promotion of Dr. Yana Yunusova to the rank of Full Professor, effective July 1, 2019.
Dr. Yunusova joined the department in 2007 and is cross-appointed to the Rehabilitation Sciences Institute (RSI) and is a Full Member of the School of Graduate Studies (SGS).  Yana is also a Senior Scientist at the KITE – Toronto Rehab and Affiliate Scientist at the Sunnybrook Research Institute.
Dr. Yunusova directs the Speech Production Lab at UofT, the Bulbar Function Lab at Sunnybrook Research Institute and the Vocal Tract Visualization Lab at UHN.
Dr. Yunusova's research focuses on understanding the effects of neurologic and neurodegenerative diseases on speech production. The first theme of this research is devoted to issues of early diagnosis and subtyping of the bulbar form of amyotrophic lateral sclerosis (ALS). The second theme is focused on the study of neuroanatomical and neuropathological underpinnings of motor and cognitive-linguistic deterioration in ALS. The third is concentrated on the development of new game-based treatments for speech disorders due to stroke and Parkinson's disease. All three themes are united by the overarching goal of developing novel technologies and measurement methods that can significantly impact clinical practice in SLP and neurology.
Dr. Yunusova teaches in the area of motor speech disorders and research methods. She is also concurrently serving on the curriculum review committee and is the graduate coordinator of RSI, among other responsibilities.