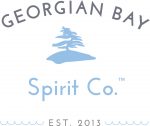 What happens in Vagus
Ingredients:
– 1.5 oz Georgian Bay Gin
– 3/4 Strawberry Lemonade (we used PC Brand)
– 1/4 Soda Water
– Sprig of Mint
– Strawberry Slice
Instructions:
Fill glass with ice
Add 1.5 oz gin
Add lemonade and soda water
Garnish with mint sprig and strawberry
Enjoy!
Why "Vagus" ?
The cocktails name was chosen by an impartial panel from a slew of entries and the panel agreed the name coined after the "Vagus cranial nerve" was just brainy enough!