Walk Now for Autism Speaks Fundraiser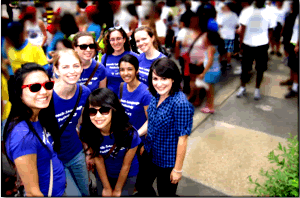 Twelve SLP students recently participated in Walk Now for Autism Speaks, raising almost $2000.
This walk is an annual event that raises funds for research, family support services, and initiatives to raise awareness about ASD and issues facing the ASD community.
During the walk, a mother of a child with autism noticed our T-shirts and commented, "U of T Speech Pathology? Good for you! We need more of you!" It was great to be recognized and also important to be reminded of the difference SLPs make in the lives of individuals with ASD and their families. We hope our presence at the walk will continue to grow each year.
Thank you to everyone who generously donated to the cause!