Doctoral Student Sana Smaoui Chosen to Present at UofTMed Student Showcase
UofTSLP would like to congratulate Sana Smaoui on the successful presentation of her current research at this years Faculty of Medicine event!
The UofTMed Student Showcase is an annual event celebrating donors to the Faculty of Medicine where students are selected to display their research through interactive exhibits. This year, SLP Alum and PhD candidate Sana Smaoui (right) was one of 11 students selected to display her research and discuss the impact of her work to UofT donors. Smaoui's clinical research trial explores the effect of a tongue pressure intervention using the IOPI device for patients presenting with swallowing difficulties and decreased tongue pressures. Patients apply pressure to the device with their tongue and receive biofeedback from the device with the aim to help strengthen musculature through intensive practice and repetition.
Congratulations!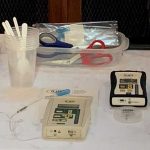 Photo Credit: Stephanie Coffey