May Month in Review – 2017 Student Campaign
Speech and Hearing Awareness Campaign 2017
By Richard Holmes, Mélanie Orellana, Luxsiha Sribaskaran
May is the month in which communication health professionals share information about communication health and the roles of speech-language pathologists, audiologists, and communicative disorders assistants. This year, we wanted to raise awareness about speech, language, hearing and swallowing difficulties and the importance of prevention and early intervention by educating the public about our roles in these domains.
To accomplish these goals, we harnessed the powers of social media. The creative talents of our class shined bright as we designed and created the following social media promotions: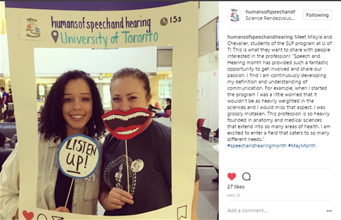 – After taking photos with handmade Speech and Hearing Month photobooth props, our classmates, friends, and attendees at the various information events were encouraged to change their Facebook profile and cover photos to start a conversation about speech, language, hearing, and swallowing disorders.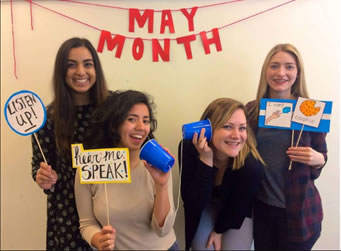 "May is Speech and Hearing month!!!!! Dedicated to raising public awareness about communication health. It aims to shed light on the importance of early detection and intervetion in the treatment of communication disorders, and how those in this profession can help. Communication shouldn't be taken for granted!"  (facebook excerpt).
– We created a Buzzfeed quiz to test knowledge and debunk common misconceptions about communication disorders.
– We shared this quiz on Facebook and challenged everyone in the class to take the quiz, post their results, and challenge three friends outside of the profession to take the quiz.
– We shared infographics using social media networks to reach out to people outside of the professions.
One of the amazing outcomes of this year's Speech and Hearing Month campaign was how our class came together to brainstorm ideas and create materials to spread awareness about the professions we are passionate about. One new idea for this month was to create Speech and Hearing Month buttons to share and wear throughout May in order to spread awareness and spark conversations. Using a classmate's wonderful design, OSLA had 500 buttons created which turned out to be a hit! We handed them out at all events and our classmates were excited to sport them everywhere they went.
During the month, we held two information booths on the U of T campus and another one at Holland Bloorview Kids Rehabilitation Hospital. For these booths, our classmates let their creative talents shine as they created clever speech and hearing themed props for a photo booth, a large interactive quiz board, and several activities to simulate the experience of having a speech, language and/or hearing disorder.
This year's Speech and Hearing month would not have been a huge success without the collaborative efforts of fellow students, faculty members, the Ontario Association of Speech-Language Pathologists and Audiologists (OSLA), Speech-Language & Audiology Canada (SAC), Phonak Canada, and Cochlear Americas. We look forward to promoting our communication health professions and advocating for communication health beyond the month of May.