June is…Amyotrophic Lateral Sclerosis (ALS) Awareness Month
Health Canada, Calendar of Health promotion days also lists June as Amyotrophic Lateral Sclerosis (ALS) Awareness Month
Another June awareness event of note is dedicated to amyotrophic lateral sclerosis (ALS, commonly known as Lou Gehrig's Disease), a devastating neurodegenerative disease which affect speaking and swallowing functions. Awareness of ALS on an international scale was first promoted in 2014 with the "Ice Bucket Challenge." More than 17 million people participated in the challenge and raised money for ALS research. Since then, ALS awareness month has become a highly celebrated annual event to raise awareness and funding to find a cure for ALS.
Dr. Yana Yunusova's research in our department focuses on the study of speech and oro-motor dysfunction in neurodegenerative diseases, specifically in ALS. Learn more about research in the Speech Production Lab at University of Toronto and Bulbar Function Lab at Sunnybrook Research Institute.
This year members from Yana's lab participated in some exciting ALS awareness activities:
Ph.D. student in the Speech Production Lab, Sanjana Shellikeri was invited to participate in the Edge Walk at the CN Tower with the ALS Society of Canada. You can watch her take on the challenge in "Taking it to the Edge for ALS" – Day 3 of the Seize the 30 Days campaign on http://www.seizethe30days.ca 
The Speech Production Lab also supported the ALS Awareness Month by participating in the York region ALS Canada Walk on June 05, 2016.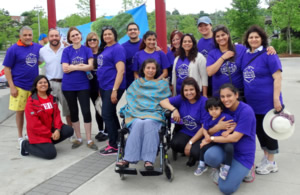 The walk is part of ALS Society of Canada's efforts to fund support for direct services for people with ALS and their families in their own communities and ALS research through their National Research Program http://walkforals.ca/