Bilingual Development Neurodiversity Workshop Panel Discussion
The Bilingualism & Multilingualism Development (BAM!TO) Lab at the University of Toronto is offering a free, hybrid workshop and roundtable discussion on Friday, April 21st (1-3pm ET) that will focus on bilingual language development as well as neurodiversity in bilingual children.
Featured speakers include Dr. Elizabeth Peña, Ph.D. CCC-SLP, Professor in the School of Education at University of California, Irvine and author of the Bilingual English-Spanish Assessment.  We're happy to host Ian Roth, M.H.Sc., S-LP(C), Reg. CASLPO and Kate Perry, M.Sc., S-LP(C), Reg. CASLPO, clinicians with extensive experience working with children with Autism Spectrum Disorder and neurodevelopmental disorders at the Holland Bloorview Children's Hospital.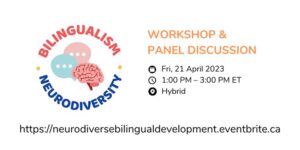 For more details, visit our event page to RSVP: neurodiversebilingualdevelopment.eventbrite.ca
All clinicians, students and faculty are welcome!
Feel free to email us at kaiian.leung@mail.utoronto.ca if you have any questions.