2015 Distinguished Service Award
Congratulations to Dr. Kimberley Bradley !
Winner of the 2015 Distinguished Service Award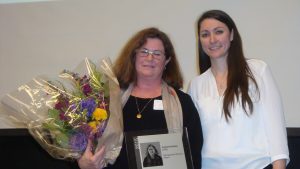 On November 10, 2015, the University of Toronto Speech-Language Pathology Alumni Association hosted an Awards and Recognition Celebration at the J.J.R. Macleod Auditorium. On this occasion, the Alumni Association was honoured to present Dr. Kimberley Bradley with this year's Distinguished Service Award.
This award was created to recognize Alumni of the department who have made outstanding contributions to the fields of communication disorders and swallowing in at least two of the following areas: academic achievement, clinical services, and promotion of the profession.
Our winner this year is someone who has made outstanding contributions in all three of these areas. She was nominated by two separate individuals, fellow S-LP colleagues, who shared passionate letters of support regarding Kim's many contributions to the field of S-LP.
Dr. Bradley is a Speech-Language Pathologist, Clinical Investigator, and Assistant Professor here in the S-LP Department. She is a graduate of Victoria College and received her Master of Health Science from U of T in 1985 and her PhD from the Institute of Neurology, University College, at the University of London in 1997.
In her 30 year clinical career, Kim has worked in adult neurology at TRI Dunn Avenue, in the UK, and in private practice in Toronto. In the past decade she has worked in paediatric neurology and as a Collaborative Practice Leader at Holland Bloorview Kids Rehabilitation Hospital. Currently, Kim is working as a Manager of Collaborative Practice and Education at St Michael's Hospital.
As a Clinical Team Investigator at Bloorview Research Institute, Kim facilitated and supported clinical staff with building clinical research capacity, which is something that is challenging for many clinicians. She is committed to practicing and supporting other S-LPs to provide evidence-based, client-centred, and innovative practice.
Since she obtained her PhD, Kim has been Assistant Professor in the S-LP department. She taught Motor Speech Disorders from 1997-2002 and the Acquired Brain Injury Neuro-Cognitive Communication Disorders course since 2004. In 2011, Kim also taught adult neurogenic communication disorders at the Bangladesh Health Professions Institute.
Kim has numerous articles, posters, and presentations to her name, often with a focus on inter-professional practice and outcome measurement, all while continuing to maintain a clinical workload.
In 2013, Dr. Bradley received the Innovation in Teaching and Education Award from the Teaching and Learning Institute at Holland Bloorview Kids Rehabilitation Hospital. This was for her work on developing an Integrated Learning Experience using simulation with standardized patients for second year S-LP students. She wanted to ensure the student's experience was practical and exposed them to "real-life "clinical situations.
Kim is very involved with the International Centre of Disability and Rehabilitation (or ICDR) at U of T. She was the Chair of the Communication Disorders Working group from 2007-2011, and since 2011 she continues to be a member of the Executive Committee.
Her passion for the field of S-LP has reached out to the far corners of the world. Kim has been involved with Paediatric Speech Language Therapy care in India and Qatar and is currently working on a pilot project funded by Transforming Faces Canada to develop Speech Language Therapy lectures for use in education programs in Ethiopia, Bangladesh, and Thailand and potentially other low to middle income countries.
Congratulations again to Dr. Kimberley Bradley on her wonderful achievements!