1, 2, 3 Talk to me!
Dr. Alice Eriks-Brophy and her team in the Childhood Hearing Loss Laboratory are using an exciting new technology,the Language ENvironment Analysis (LENA) System, to investigate the language socialization practices of families of minority language-speaking preschool children with and without hearing loss.  This novel collection tool is receiving recognition for its utility in data collection in both research and clinical settings.  The CHLL is the first laboratory at the University of Toronto to use this technology.
The LENA is a small recording device that automatically audio-records a child's natural language environment and calculates aspects of the child's language and auditory input. The child wears a specially designed t-shirt that holds a small digital language processor (DLP) which audio records for up to 16 hours and is then uploaded to the computer for analysis.  The software determines 1) the number of adult words the child was exposed to, 2) the number of vocalizations a child attempted, and 3) the number of conversational turns between the child and an adult. The LENA software also calculates the amount of background noise, electronic sounds, television, and silence that were part of the child's listening environment.  All of these data are displayed in LENA generated graphs that can be used for research purposes and also to inform parents of the communication patterns they use with their child. Additionally, the LENA System provides an automatic vocalization assessment that correlates with traditional expressive language standard scores including the PLS-4 and the REEL-3.  LENA recordings can also be exported into other software programs to conduct more detailed analyses of language patterns and acoustic features.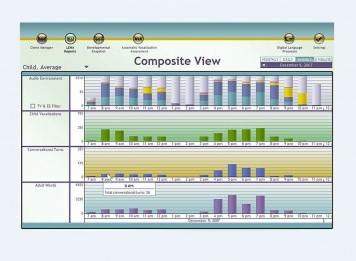 At the Childhood Hearing Loss Laboratory, Dr. Eriks-Brophy, Hillary Ganek, and Leah Radziwon are using the LENA technology in two related projects. They are looking at cultural approaches to auditory-verbal therapy and are using the LENA system to capture the language socialization patterns of minority language speakers. These findings will have implications for the therapy techniques speech-language pathologists use with their ever-diversifying caseloads. Similarly, Hillary, a certified Auditory-Verbal therapist and PhD student, is using the LENA System to explore the language socialization practices of Canadian and Vietnamese families.  Hillary has worked extensively in Vietnam training professionals who work with children who are deaf through the Global Foundation for Children with Hearing Loss. As the field of speech-language pathology expands into the developing world, Hillary hopes that her work will inform therapy approaches for children from non-western cultures. Leah, laboratory coordinator, is responsible for maintaining the LENA database, organizing participant recruitment, and conducting interviews with families.
The LENA System is an innovative tool in both the research and clinical worlds.  Prior to the invention of the LENA System, studying language development in a child's natural environment was extremely difficult and prone to error.  Video or audio recorders were bulky, often distracted the child, and generally intruded in a family's daily routine.  Recording a full day was next to impossible, causing researchers to miss significant portions of a child's language use.  Additionally, transcription and analysis of the data was cumbersome and could take years to complete. The LENA System allows for unobtrusive recordings that can be analyzed quickly, accurately, and automatically.  It is revolutionizing how researchers in speech-language pathology view data collection and provides highly representative information about caregiver-child language use.  Many laboratories and clinics are using the device to investigate the language environment of typically developing children, high-risk infants, children with hearing loss, and children on the autism spectrum.
The Childhood Hearing Loss Laboratory is excited to pioneer this new technology in hopes of providing the backbone for more culturally appropriate treatment approaches, therapy techniques, and paradigms that will allow all children to reach their full linguistic potential. For more information about the research, please contact Dr. Alice Eriks- Brophy at a.eriks.brophy@ utoronto.ca and for more information about the LENA system, visit www.lenafoundation.org (the research site) or www.lenababy.com (the consumer site).