Lab In the News
Dr. Andrea Bandini wins best poster award
Dr. Andrea Bandini, post doctoral fellow in SPL, was awarded Best Poster for his work on facial tracking using 3D cameras for assessment and speech rehabilitation  at the Toronto Rehab Research Day.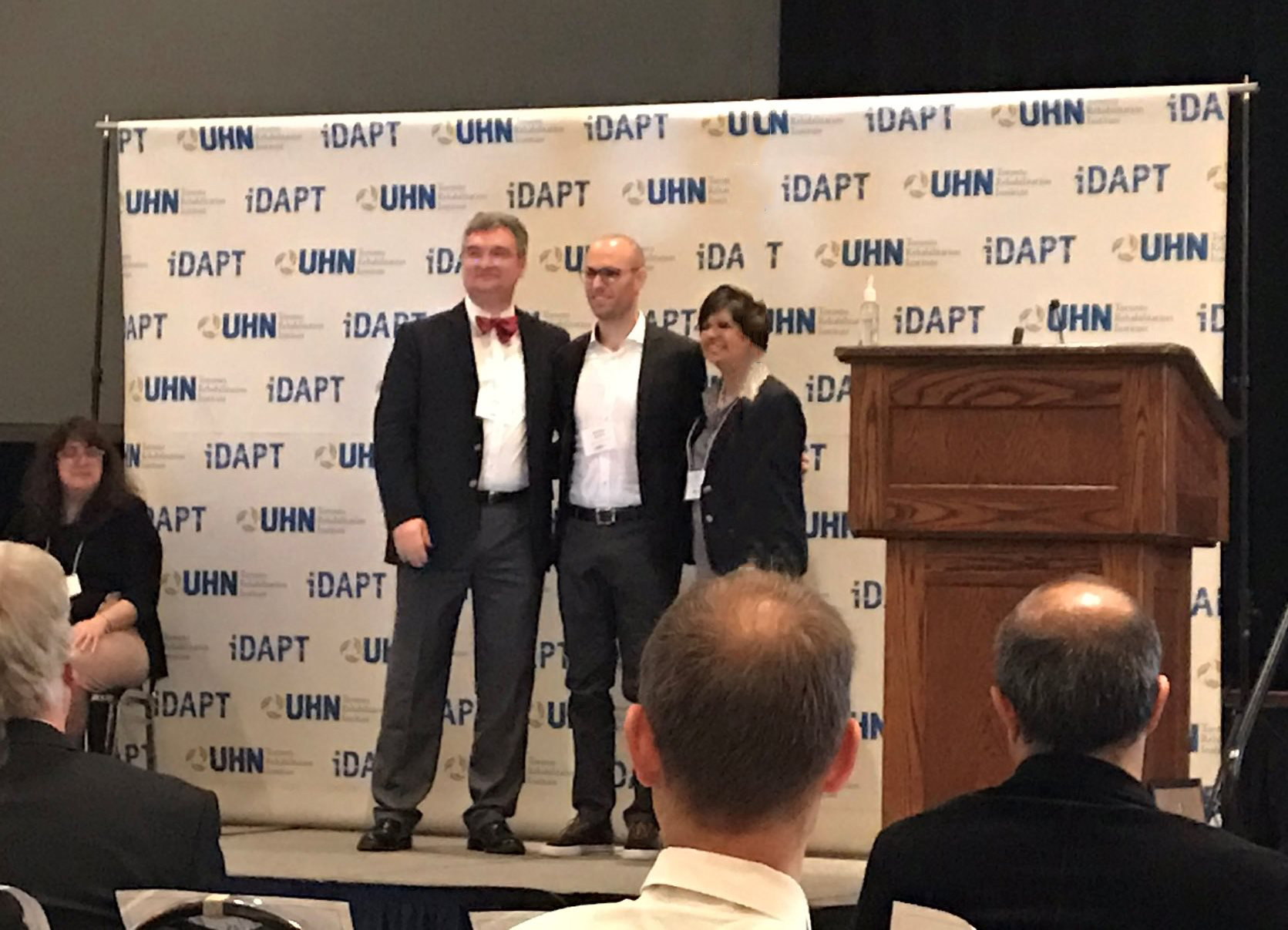 Picture credit: UHN-Toronto Rehab Insitute
Word play: UHN researchers develop a computer game for speech rehabilitation
Dr. Yunusova's research in speech rehabilitation in Parkinson's disease using computer games was featured on the UHN website here
Special issue from the Conference on Motor Speech 2016
A special issue of the Journal of Speech, Language, Hearing Research (JSLHR) edited by Dr. Yana Yunusova highlights the most innovative research trends in the field of speech motor control as it applies to normal and disordered speech production in children and adults. You can read the summary and highlights of the special issue and browse the featured articles here.
Dr. Yunusova featured on NRx newsletter

Dr. Yana Yunusova's research on using speech patterns to improve diagnosis of amyotrophic lateral sclerosis (ALS) and fronto-temporal dementia (FTD) was featured in the March 2016 issue of UHN NRx newsletter. The article titled "Neurological Disease: Improving Diagnosis" highlights a recent publication which demonstrates the use of a custom software to detect predominance of ALS and/or FTD symptoms in patients.
11th Annual Toronto Rehab Research Day
Elaine Kearney was awarded a 2015 Team Excellence Award for the Communication Team at the 11th Annual Toronto Rehab Research Day for exceptional academic and research performance at UHN-TRI. Our summer student Renuka Giles presented and was awarded for 'Best Poster (Undergraduate)' for the project titled "Speech Intelligibility in Parkinson disease".

Jim Hunter ALS Cycle for a Cure
Sandra Pacione recently participated in the 20 km bicycle ride as part of the Jim Hunter ALS Cycle for a Cure event at Angus Glen Golf Club on September 27, 2015. This event is organized to raise funds for research in treatment and a cure for ALS.
2015 Hurvitz Brain Sciences Summer Student Program
Our undergraduate summer student Vishawathsen Karthikeyan received a 2015 Hurvitz Brain Sciences Summer Studentship Award to participate in research at the Bulbar Function Lab at Sunnybrook Health Sciences Centre. The research project was titled "The Neuropathological Signature of Bulbar ALS" with the objective to characterize the bulbar ALS population based on existing literature in neuropathology.
Brain-behaviour relations in ALS (University of Toronto Speech-Language Pathology Alumni Association Newsletter, 2015)
Great advances being made in assistive technology (Toronto Star, 2015)
The power of speech (International Innovation: An Internal World, 2014)
Improving speech: movement made audible (Parkinson Society of Canada, 2013)
Technology will help dad with ALS keep talking (Toronto Star, 2011)
Featured Scientist: Dr. Yana Yunusova (ALS Society of Canada, 2011)